Cette page était sur le site de M0MRR; mais le lien ayant disparu, j'ai reproduit ici l'article que j'avais conservé. (F5AD)
********************************
10m Aluminium Moxon Construction
I found the plan to build the aluminium Moxon via the Moxon Project web site. You can email for a detailed drawing if required.

As I had very good results with a wire Moxon put together from telescopic fishing poles and wire I thought I would make something a bit sturdier. The aluminium was sourced from Smiths Metals, I used 1/2" & 3/8" tubing - at about £8.00 per 4 meter length it didn't cost too much.
Bending the tubes was a challenge, I eventually borrowed a pipe bender for 15mm copper pipe and used this. It worked satisfactorily and I used a hand held pipe cutter to cut the tubes.
My next door neighbour again proved helpful with a scrap bit of fence feather edging which I shaped to accomodate the aluminium elements. A scrap bit of plastic tubing was used for the boom. And the boom to mast bracket is cut from a plastic breadboard. As you can see I have used a coax RF balun.
I found a plastic garden stake that fitted perfectly in the 3/8" tubing to act as the spacer between the element and reflector.
The whole assembly is on the top of my 33ft push up aluminium mast and then back to my radio via a 40ft length of RG213 coax.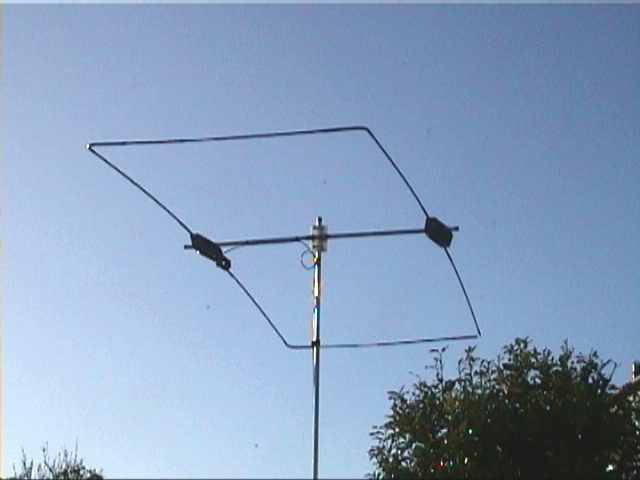 Performance? I haven't got a brilliant way of measuring the antenna. I do know that when the Moxon is pointed Stateside, the european signals fade. I do know that unless the antenna is pointed in the general direction I want to transmit that the station called can't be worked. Therefore I suggest the published performance of the Moxon would be correct. I also find that the Moxon is a much 'quieter antenna and weaker stations are heard in comparison to the Cobwebb or longwire. I am really pleased with this antenna and am hoping to build different band versions.
Unless otherwise stated the contents of this web site are © 2006 M0MRR