Cette page était sur le site de SP3FHI; mais le lien ayant disparu, j'ai reproduit ici l'article que j'avais conservé. (F5AD)
********************************
SP3FHI * POLISH AMATEUR RADIO STATION * SP3FHI
(SIERRA PAPA THREE FOXTROTT HOTEL INDIA)
MY 6M HEXBEAM ANTENNA
This hexbeam antenna is made of some easy to find and extremely cheap parts ($10 total).
I have started with drilling holes. Than attached bamboo sticks and painted them to protect against water. 
Than... I spent 5 hours trying to make a good hex shape! Why? Here is the conclusion:
- I have used too heavy wire (2,5mm2) and the bamboo sticks are too weak to give enough force ,
- to make it perfect first get the hexagonal shape of the external wires and then attach the radials the way not to loosen the external wires!
- the photo below shows another mistake; I've used some thin rope first and attached wires to it...wrong!...I've removed all the rope parts where the wire can hold the construction 
The dimensions taken from EI7BA site (driven 520/f and reflector 4% longer) are too long. Maybe there is a problem with my conversion - i convert to metric with a formula 1ft=0.305m. So using MFJ's analyzer i cut a few centimeters of both driven and reflector wires to get resonance on 50,200MHz. Than I had to reconfigure the wires to make the reflector cover the whole available space beetween spreaders.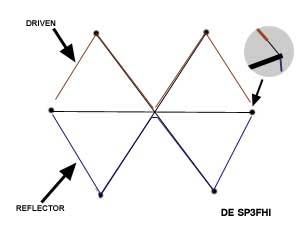 SWR is not bad: in my garden keeping it 1m over my head i get 1:1,1. On the roof this antenna is mounted on alu 3m pipe with a TV rotor and there is a "pounder " antenna 1 m below.  The following results were measured using MFJ antenna analyzer with antenna on the roof.
| | |
| --- | --- |
| Frequency MHz | SWR |
| 50,0 | 1,5 |
| 50,2 | 1,4 |
| 50,5 | 1,3 |
| 50,8 | 1,3 |
| 51,0 | 1,4 |
| 51,4 | 1,5 |
| 51,6 | 1,6 |
| 51,8 | 1,7 |
| 52,0 | 1,8 |
---

The next construction will be made of fiberglass and I will try a little diffrent dimensions and use some thin 1mm2 wire to get perfect hex and flat shape..
VY 73 ES MANY DX!