On board Deïxon
Meetings in the gulf
of "Aigues Mortes"
1
Whales
Rorquals of the Mediterranean; those were only 12 meters long , and no more than 10 tons...
5 meters nearer it was the accident, but I had priority.
Espadons
sure, it is a swordfish
The proof!
Sometimes we find exotic or tropical fish off "le Grau du Roi"
here a coryphene, more frequent on the road to the Antilles
as for this barracuda
Or for this tassergal, away from its African coasts
When the fish is too large for the landing net, a hand to hand fight becomes inavoidable.
F5AD: 1
Tassergal: 0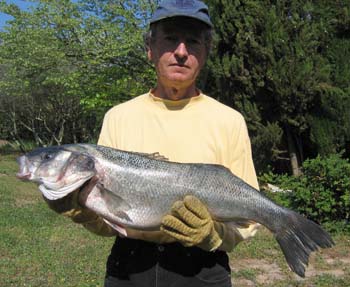 A bass, it is less exotic, but it is fine to eat.
as for the bonito.
Here one of the wellknown reasons of the disappearance of certain species in the Mediterranean: Magalie
With five mackerels and an oblade on the same line.
On right-hand side, it is not a fishing rod, but a vertical 14 MHz threaded in a fibreglass rod.
See the meetings with boats
Return to page ATV in/MM
© 1999-2011 A. Ducros F5AD